This weekend was a festival of all things Allium Trococcum. A member of the allium family with onion, garlic, leek, you may know it by a different name such as wild leek, wild onion, wood leek, and ramps depending on your locality. We have always known them as "Ramps", but they are more accurately called "Wild Leeks", as the ramp name is derived from a different plant in Europe. They thrive from Nova Scotia down to Appalachia and west to the Great Lakes region. They are not widely cultivated, but they are widely foraged. And they are also widely viewed as a welcome harbinger of spring. Here in the Northwoods of the Upper Peninsula of Michigan, they are just coming into peak form.
If you have a desire to forage some on your own, consider getting a copy of Lisa Rose's excellent Midwest Foraging, as a guide to wild leeks and a 114 other edible discoveries. She does note the risk of over-harvesting, particularly the bulbs, as ramps are now in demand and getting a fairly high price at the farmer market and locally-focused restaurants. We don't have that particular risk here in the Northwoods as noted in the picture above, so we felt comfortable with an ample harvest. Worth noting, we harvested only a very small part of much larger patches in order to ensure propagation.
Why the hype? Mostly because they are a symbol of springtime, though they are also delicious and nutritious. Similar to the flavor of a spring onion, with a hint of garlic, the broader leaves can be easily used as any herb would be, while the bulbs can be treated like a small pearl onion, perfect for pickling. The Ojibwe and Menomonee are said to have boiled or fried the young plants as well as stored parts of the wild leek to dry. Their place of harvest may just have been modern day Chicago. The most accepted source of the city's name come from the Miami word for wild leeks which reportedly grew there in abundance. Our research took us through a fascinating journey through the history of the Ojibwe (or Ojibwa), part of of the Anishinaabeg, who moved into this area in the 1700s. The "Knife" Dakota tribe of the Sioux lived on the shore of Lake Superior before the Ojibwe were forced West by European settlers. And the Sioux trace their ancestry to the Oneota culture of the Upper Mississippian people, as do the Ho-Chunk, which occupied the Great Lakes region from at least 900 AD based on archaeological records.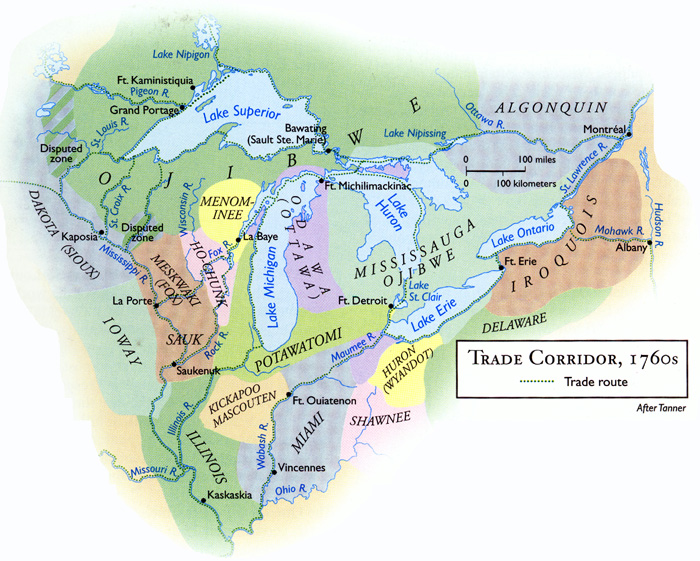 We know from archeological digs in Wisconsin, the Oneota culture farmed corn, beans, and squash (The Three Sisters) as well as other crops on river terraces and lakes. They harvested fish, clams and wild rice which occurred in abundance. They also hunted deer, elk and bison as well as smaller animals for meat, hides, and other use. The entire indigenous diet of the Great Lakes is a deep vein for us to explore in our pursuit of Great Lakes cuisine, which we will return to in future posts.
Today, let's use our indigenous wisdom as inspiration, with a bit of local flavor. We begin with a wild leek omelet. This should probably be two duck eggs or maybe a four quail eggs, not chicken, if we want to properly honor the ancient traditions, but we have to make do with what we have.
Wild Leek Omelet
We made this on two consecutive mornings, once with fresh wild leeks and one with charred wild leeks. The fresh was excellent with a pleasant herbal onion-ness, but we preferred the charred for the extra depth of flavor. We were able to find some dried wild apple branches while foraging for the wild leeks, so we used those to add a hint of sweet smoke the previous night at the campfire and then let them rest overnight. Here was our approach:
Finely dice the bulbs and stems of two to four wild leeks, set leaves aside. Fry the diced bulbs with a knob of butter over medium until softened, but before they take on any color. Chiffonade the leaves and whisk into the eggs with a pinch of salt. Add to the pan when the bulbs are softened, allow to set, then fold over once. Add a bit of cheese if desired, which isn't terribly authentic to the Ojibwe, but it is delicious. We used freshly grated fontina from Bel Gioioso, which melts like a dream, then folded over the eggs again and allow to rest, covered, off the heat. Served with toasted sourdough and oven roasted herbed potatoes, it was amazing.
Harkened back to another stunning omelet enjoyed while travelling in the South of France, which featured locally foraged mushrooms and chives. This was every bit as good, though a bit of wild foraged morel would likely have transported this omelet to another level.
Charred Wild Leek Salmon
Here again we're adapting to what is at hand. The Ojibwe would likely have fished for the namegos, or lake trout, which is in the Salmonidae family, but the invasion of sea lamprey and alewives due to shipping channels nearly wiped out the native lake trout population. In the 1950s, salmon was re-introduced to the Great Lakes, and has been very successful in reducing the alewives over-population issue. We have already waxed longingly about our love of trout, so please feel free to substitute here. Our approach started with a "pesto" like sauce for the salmon:
Prepare a grill, preferably wood-fired. Char the a large bunch of wild leeks over the hot coals and then reduce the flames to hold the grill for the salmon. Chop the wild leeks roughly and add to a blender. Add corn oil to just cover leeks or another neutral cooking oil. Toast a 1/2 cup sunflower seeds in a pan with 1 Tbsp. oil, then add to the leeks when lightly browned. Add 1 Tbsp. apple cider vinegar. Add 1 tsp of salt. Puree until blended, but not smooth. The result should look like pesto. Taste and add salt as needed.
Top a skin-on fillet of salmon (or trout) with paste. Grill at around 450 F, off set from direct heat, on foil or fish basket, for about 6 minutes, until the salmon is no longer opaque. It will continue to cook slightly off heat and you are looking for just a slight opaqueness in the center.
If you have some leftover wild leek sauce, it makes a lovely dip mixed with a softened goat cheese. We also spread it on toasted sourdough to sub in for garlic bread with pasta.
In our next post, we're going to go a bit deeper into a take on indigenous Great Lakes cuisine. Which in turn forces us to ask questions about culture, history, and a sense of place. How do we honor what has come before? This has always been a central question to our work on Great Lakes Cuisine. We will continue to explore these ideas as we move forward.